13 years, way too many coaches to remember (kinda fitting that Nelly is the only one that could put us back on track), too much drama, bad contracts (Mike Dunleavy? Seriously?), one monumentally disappointing first round pick (Joe Smith? Who?), one very atrocious new mascot (WTF is that thing?… No wonder fans prefer the throwback "The City" logo) and soo much heartache.
I was convinced for a time that the imploding Warriors could only win if I did not watch the Fourth quarter.
Oh the long painful journey it has been, but last night my faith was rewarded when we shocked the NBA and knocked out the West's number one seeded Dallas Mavericks. ESPN responded with "WHERE WE CONGRATULATE THE WARRIORS FOR MAKING US WATCH THE NBA"
I say, we believed it all along.
Introducing Mr. Baron Davis.

Listen to the sound!
NPR report
Would you like pepper with that crow?
Charles Barkley donned a Warriors "We Believe" during the post game report on TNT after repeatedly blasting the team as a bunch of "midgets" and characters that did not belong in the NBA Playoffs. I pretty sure 75% of it was an act, the former player (that never won a ring) has made a reputation for himself as a commentator that likes to rile peoples feathers, but he made for a good villain in the drama of being a Warriors fan.

Just for $#!+'s and giggles. (Side-note: I want to keep this light-hearted, but notice how many people buy the dollar sandwiches? Is McDonald's targeting?)

POSER!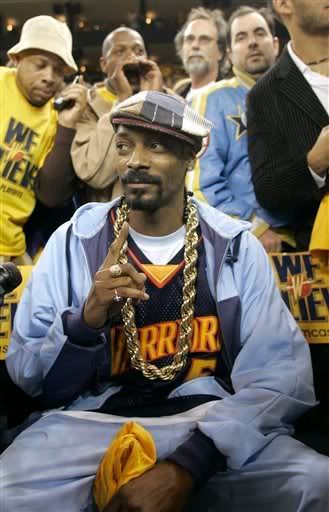 One picture from Marcio (As much as it's fun to boo Mark Cuban, it's hard to hate a man who is so much a fan of his team. If only our owner cared as much.)


An unselfish leader and a team that loves their coach (I haven't seen this since the 2004 Pistons)

Chris Mullen is THE MAN!
Whose in for a dozen roses? Scratch that, anyone wanna make a float for the Rose Bowl parade.